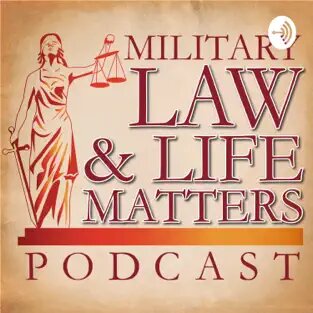 War Stories from the Courtroom – a Podcast with Attorney Mark Bridges (Colonel, US Army Retired)
Attorney Mark Bridges Colonel (US Army, retired) opened his private law practice — Law Office of Mark A. Bridges — after a rewarding 30-year career as a military attorney in the US Army Judge Advocate General's Corps. Mark is a recognized expert in military justice and criminal litigation and his law practice is exclusively focused on legal representation of Soldiers, Sailors, Airmen, Marines, and Coast Guardsmen who are under military investigation, facing adverse action, or pending trial by court-martial. During his military career, Mark served as the US Army's Chief Trial Judge, with a combined ten years of service as a trial judge presiding over court-martial trials. Mark also had the privilege of serving as the Staff Judge Advocate for the 25th Infantry Division & US Army, Hawaii, where he served as principal legal advisor to the Division Commander and supervised one of the Army's largest legal offices. In previous assignments, Mark served as a Prosecutor, Special Assistant US Attorney, Appellate Defense Counsel, Chief of Military Justice, and Senior Defense Counsel. He also had the privilege to teach as an Associate Professor in the Department of Law at the US Military Academy at West Point.
One of Mark's more interesting assignments came when he was a Major, assigned to the newly formed Office of Chief Defense Counsel, Office of Military Commissions. This was the office established soon after the 9/11 attacks to defend detainees at Guantanamo Bay, Cuba, pursuant to President George W. Bush's military order establishing military commissions for the first time since World War II. Mark and his colleagues successfully challenged the military commissions system established by the President in cases before the US Supreme Court.
Listen on Apple Podcasts
MILITARY CRIMINAL ATTORNEY
Mark Bridges is a leading authority on "military justice," and is recognized as one of the premier criminal law litigators in the military.
Mark brings over 30 years of experience to his boutique civilian law practice focused exclusively on the defense of Soldiers, Sailors, Airmen, Marines, and Coast Guardsmen.
Hawaii-based with a worldwide reach, the Law Office of Mark A. Bridges, LLLC, provides state of the art representation and criminal defense developed through 30 years of military service as a Criminal Law Litigator, Trial Judge, and Senior Legal Advisor in the Army. It is committed to defending members of the Armed Forces, ranging from junior enlisted to senior officers who are under investigation, facing adverse action, or pending trial by court-martial for felony-level offenses such as murder, rape and sexual assault, child pornography, drug offenses, aggravated assault, larceny, and desertion.
Learn More
What they're saying about Mark Bridges…
"He is so well regarded that even our most experienced judges seek his wise counsel on their toughest problems."
Commander (Brigadier General), US Army Legal Services Agency
"Ranks #1 of 39 circuit judges in the Army – any rank, any component."
Commander (Brigadier General), US Army Legal Services Agency
"One of the JAGC's most competent trial attorneys and the best military justice teacher I know."
Chief Trial Judge, US Army Trial Judiciary
"His knowledge of criminal law is unsurpassed."
Chief Circuit Judge, US Army Trial Judiciary
"Mark is a brilliant attorney."
Deputy General Counsel, Office of General Counsel, DOD
"Mark is my 'go-to' defense counsel when the most demanding and difficult issues arise."
Deputy Chief Defense Counsel, Office of Military Commissions
"Mark forged a good relationship with the government counsel and with the military judges, virtually all of whom repeatedly praise his abilities."
Regional Defense Counsel, US Army Trial Defense Service
"Mark was brilliant as lead counsel, doing an exceptional job of representing soldiers."
Regional Defense Counsel, US Army Trial Defense Service
"Brilliant, tenacious, hard-nosed, uncommonly mature judgment."
Staff Judge Advocate, Fort Bliss
"Unquestionably one of the Army's top litigators."
Staff Judge Advocate, Fort Bliss
"Well organized, forceful, and persuasive."
Branch Chief, US Army Defense Appellate Division
"Mark is a very zealous advocate for his clients, providing them top-quality representation at every phase of the appellate process."
Branch Chief, US Army Defense Appellate Division
"A particularly strong courtroom advocate, who consistently demonstrated thorough case preparation, confident courtroom presentation, and the ability to handle the unexpected."
Chief, Criminal Law Division, Fort Stewart